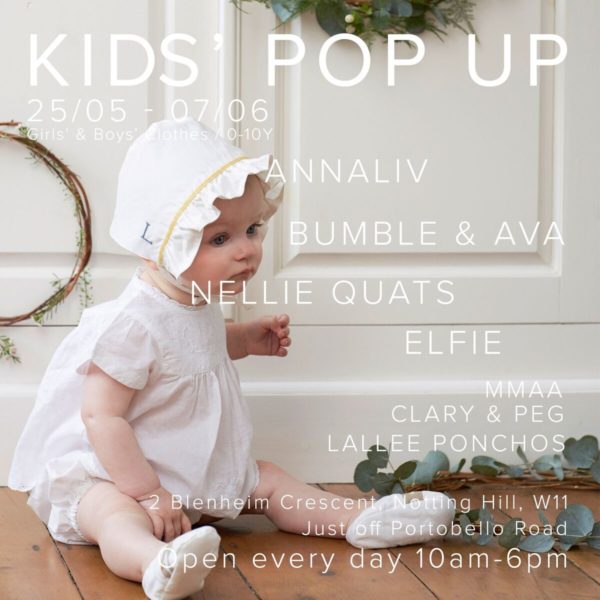 We have joined six other independent British brands to launch a children's pop up collective in Notting Hill from 25th May – 7th June. The store will be open daily from 10am-6pm.
Kids' Pop Up – 2 Blenheim Crescent, Notting Hill, W11 (Just off Portobello Road)
Children's lines Elfie, Nellie Quats, Bumble & Ava, Annaliv and Lallee Ponchos are joining forces with vintage-inspired maternity brand Clary & Peg and brand new social enterprise selling handwoven baskets Mmaa for this two-week showcase just off Portobello Road.
We would love to see you there, quote Portobello10 for an extra 10% off!
Elfie is a children's brand that offers a perfect balance of British elegance and fun. The clothes feature smocking with playful embroidery, rich colours, hand knits and floral prints. They encourage children to mix and match to find their own style but can sustain any adventure that might come their way.
Nellie Quats is a girl's clothing brand that uses combination of beautiful floral Liberty prints and soft, crumply linen to create classic clothing with plenty of playfulness and fun. All clothing is designed with adventurous, active children in mind, so whilst looking stylish, comfort remains the number one priority.
Bumble & Ava is an award-winning, Fair Trade, ethical children's fashion brand designing everyday, eye-catching clothes and accessories for babies, girls and boys from 3 months to 6 years. The colourful designs that combine practicality and whimsy, use unique prints made from the softest 100% cotton and are trans-seasonal to maximise their wearability. 
Annaliv designs nostalgic baby and childrenswear inspired by traditional Scandinavian heritage. Making a perfect newborn gift, each piece is packaged in wooden gift boxes that reflect the cosiness of Nordic pine forests. The boxes keep the designs treasured and ensure they can be easily handed down through the family for generations to come. Annaliv is proud to use natural fabrics and organic cotton, ensuring you are choosing the best fabric for your baby and for the environment.
Clary & Peg create vintage-inspired womenswear that is maternity-friendly. The collection of jumpsuits, dungarees and dresses with unique vintage detailing, ethically and sustainably manufactured in London, is both stylish and comfortable. Each piece is designed to be worn with and without a bump and is also breastfeeding friendly.  Alongside the ready-to-wear collection, Clary & Peg also offer a range of baby bloomers, headbands and turbans, all made from vintage fabrics.  
Mmaa is a collection of beautiful handmade baskets and bags with a social mission of empowering women and supporting African artisans.  Coming in a wide range of colours, designs and sizes, each piece is unique and takes two to three days to weave by hand.  While these gorgeous baskets are a perfect compliment to any wardrobe or home they make a direct difference to the lives of local communities–for each bag purchased, a girl will receive a sanitary kit that lasts up to three years.
Lallee craft traditional style ponchos with a uniquely developed one-size design that fits from newborn to approximately 8 years, using only ethically sourced baby Alpaca. Our products are handmade by a community of retired Bulgarian ladies. The ponchos are available in neutral, classic colours that can be personalised with a collection of decorative tassels and complemented by a range of wool-woven and Liberty print accessories. Elegant, timeless, comfort in style. A portion of all proceeds is proudly donated to the Lyla Nsouli Foundation.
SaveSave
SaveSave
SaveSave
SaveSave